The SMDP STANDARD is the second version of the Liquid Dosage Monitoring System. It is intended for small businesses and farms that need liquid outflow control from up to 3 distribution points (tanks). This version is specially dedicated for customers who require a simple system at the moment but anticipate the possibility of its expansion in the future.
STANDARD 4.0 is the second generation of the system, distributed since April, 2019. The system supports 150 active recipients and vehicles together (any configuration, for example 75 vehicles and 75 recipients with double authorization or 150 vehicles with single authorization) and assigning only one KDP100 dispenser controller to one tank. ARCCAN SMDP STANDARD 4.0 software is extremely intuitive, user-friendly, and has basic functions for managing liquid distribution. Compared to the lower version, the program has a module for calculating liquid consumption by vehicles and a module for issuing limits. With the development of the company, devices and software can be migrated to higher versions of the system at any time, starting with the Optimum version and ending with the Enterprise version.
The DEMO SMDP STANDARD 4.0 version is available at: https://demostandard.smdp.online
The whole process of configuring KDP100 dispenser controllers is extremely easy and is carried out from the ARCCAN SMDP STANDARD 4.0 PC software. Two-way communication between the program and controllers can be executed:
manually – data transfer with COD200 identifiers with built-in memory,
by CAN cable – using the MIK200 communication module connected via USB to any computer in the network,
by LAN cable – using the NETBOX communication module connected to the LAN socket,
by Wi-Fi – using the NETBOX communication module and Access Point connected to the company's Wi-Fi network,
by wireless GPRS – internet communication using the GSM cellular network.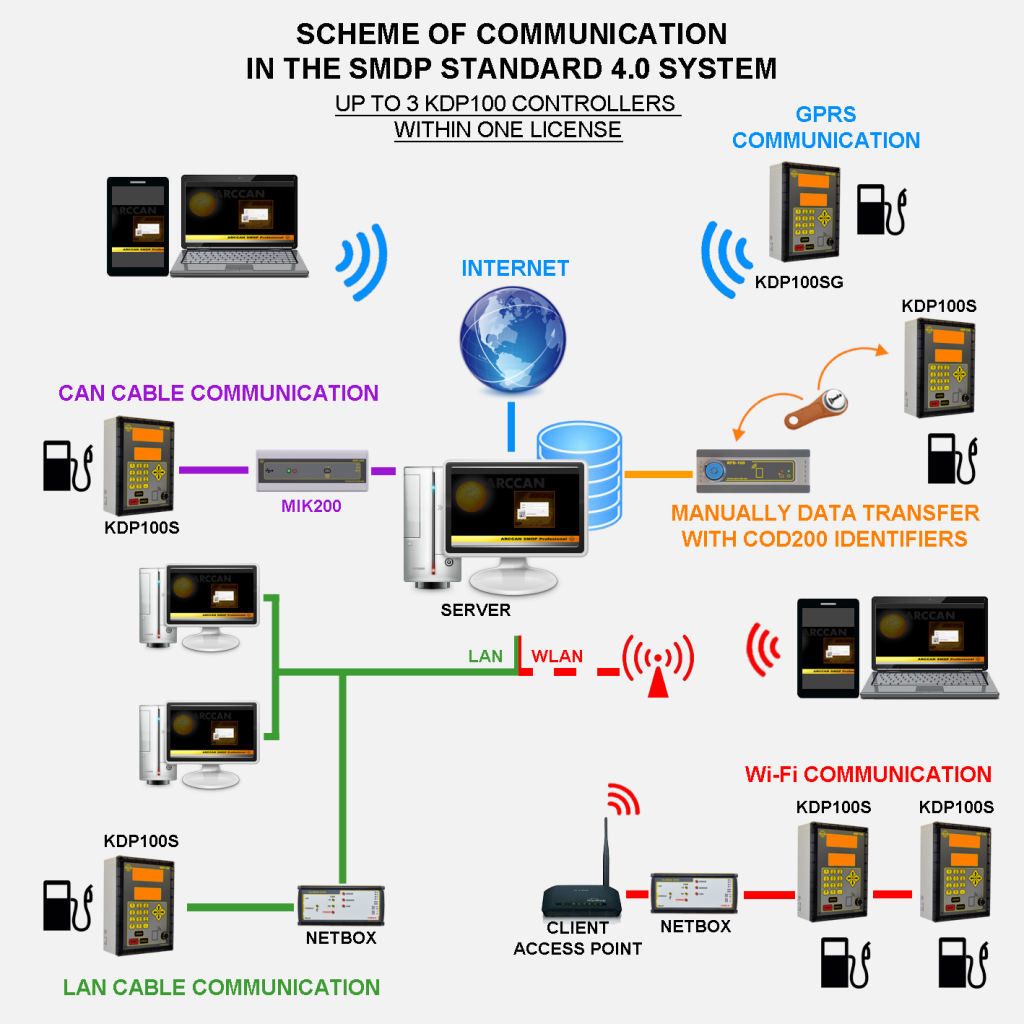 SMDP STANDARD 4.0 system functions:
authorization in the system before refueling (selected generally for the whole company):

double – for refueling, the vehicle AND the recipient must be logged in,
single – refueling requires a vehicle OR recipient login,
single + name – for refueling, it is required to log in the vehicle or the recipient, the second data must be entered on the keyboard of the dispenser controller,

methods for identifying vehicles, recipients, operators in the system (a method chosen individually for each group):

electronic identifier (chip – COD110 or contactless card – COD100),
PIN code,
by electronic identifier with additional confirmation by a PIN code,

150 active identifiers can be programmed (any configuration, e.g. 75 vehicles and 75 recipients with double authorization or 150 vehicles with single authorization),
possibility of supporting in one program up to 3 KDP100 STANDARD dispenser controllers, assigned to different tanks,
possibility of requiring to enter the mileage during authorization (in kilometers),
possibility of choosing recipients who will not see the amount of liquid dispensed during refueling,
possibility of setting important refueling times (time from authorization to lifting the nozzle, waiting time for 0.5 l of liquid, time between successive PULSER pulses),
possible levels of operator privileges in the program and in the dispenser controller: serviceman, administrator, operator, report, supplier,
calculating the level of liquid in the tank, the function of warning about reaching the alarm level, and the level of pump blockage,
a module for creating reports according to own needs by each operator individually,
analytical and graphical module for creating reports extended by calculating the distance and average liquid consumption per 100 km,
extensive data filtering options when creating reports,
calculating the average liquid consumption per 100 km by vehicles with signaling of exceeding norms,
possibility to export data to a spreadsheet or a PDF,
possibility of adding external refueling to the system,
possibility of assigning liquid collection limits to selected recipients and vehicles (daily, weekly, monthly limits to choose – limits are not supported for manual communication with COD200 identifiers with built-in memory),
data exchange between KDP100 STANDARD controllers about the use of limits by recipients and vehicles,
option of grouping vehicles and recipients in the program (groups can be freely defined by the operator),
e-mail notification module (reporting: each refueling, reaching the alarm and critical level of the tank, calibration initiated or performed),
option to enable preselection of the amount of liquid to be dispensed before refueling for whole company,
calibration by measurement or change of a factor,
emergency refueling function (implemented with one-time codes),
manual refueling function (implemented with one-time codes),
possibility of remote update of KDP100 controllers in the case of online communication or SD card update in the case of manual communication,
possibility of migration of dispenser controllers and software to higher versions (Optimum, Professional, Enterprise),
operation in different languages (Polish, English, German, Russian, Lithuanian, Czech).
KDP100 STANDARD controllers can be migrated to higher versions of the system and will have full functionality of these versions. Modules for measuring the real amount of fluid in the tank and inter-shell detection as well as a GSM modem can be added at any time.