The SMDP system, i.e. the Liquid Dosage Monitoring System, is intended for all companies using liquid media in their operations and which require in-house control and accounting.
Thanks to the SMDP, liquid collection will be possible only for previously defined vehicles and people, and all these instances of refueling will be registered and saved in the system. The settlement of the dispensed liquid is very clear and legible thanks to the easy-to-use PC program which has many filtration possibilities. In addition, the built-in analytical module for calculating the average liquid consumption by individual vehicles and the possibility of hiding the value of the refilled liquid from the driver will cause that the phenomenon of stealing liquid by the users will significantly decrease.
The modular design of the system allows a simple and economical way to construct an installation that supports both small stations with a single dispensing point, as well as large liquid distribution networks at many stations.
The SMDP system can be expanded at any time, thanks to which it will grow together with your company and will always be able to meet your expectations.
The system is available in 5 versions. The table below is helpful in the first stage of selecting the appropriate system version. It presents a comparison of key features of all its varieties.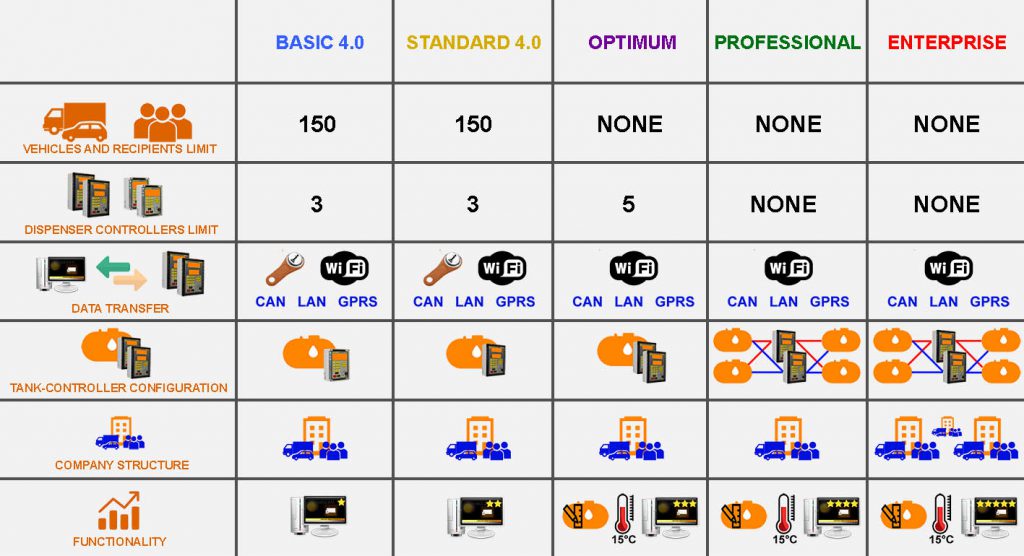 Basic 4.0 and Standard 4.0 versions were created for the needs of less demanding customers who require basic system functionality within their company. Only in these versions dispenser controllers can communicate with the software by means of manual, two-way data transfer by an identifier with memory COD200.
The Optimum version is characterized by optimal possibilities at an optimal price. This option was created in response to numerous inquiries from customers who were looking for a compromise between the Standard and Professional versions. With the development of the company and the emergence of new requirements, the system can be upgraded to a higher version at any time.
The Professional version is the most developed version of the system for demanding customers, designed to work within one company. In this version, the dispenser controllers can support many distribution points thanks to special expansion modules.
The Enterprise version is the only version of the system designed to work within many companies. Created for wholesalers serving their clients or companies with independent branches. It has the Professional version functionality extended with features useful for wholesale operations.
The SMDP is probably the only management system on the market with significant certificates: German TÜV and Russian GOST!
Learn more about the SMDP. We are sure that our system will interest you with its capabilities, and its purchase will prove to be the best decision.